SERVICES
Auto Body Services in Coxsackie, New York
AUTO BODY REPAIR
At Martinez Auto Body Shop INC, we offer full-service auto body repairs from start to finish. Have a claim with your insurance company? We deal directly with the insurance adjusters while your car is being repaired. Not using insurance? We offer all our customers quality repairs at very affordable prices. Our repairs are not limited to small vehicles. We repair and paint motorcycles, RV's and firetrucks. Stop in anytime for a free estimate.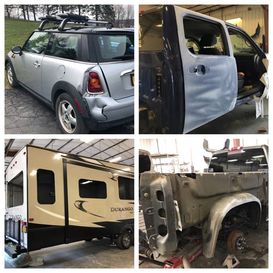 AUTO BODY PAINTING
Since 2009, we have been using PPG Envirobase High-Performance Waterborne Paint on every job we complete. Each vehicle has a unique paint code that our paint system matches for superior accuracy. With two state-of-the-art paint booths, our technicians are able to professionally get your vehicle back to pre-accident condition while also being environmentally friendly.
COLLISION REPAIRS
From small fender benders to extensive collision damages, we repair it all. We even offer to tow from the scene of an accident or your home. Insurance jobs or non-insurance jobs, every vehicle gets our highest-quality repairs so you get your car back looking like new again.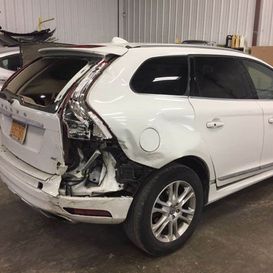 BODY REPAIRS AND OTHER SERVICES
Collision repairs are not the only thing we do. We repair vehicles that have hail damage using PDR, glass replacements, small mechanic repairs, wheel alignments, frame straightening, tire replacements and towing services.
Computerized Four-Wheel Alignment
Frame Straightening
Chassis Alignment
Paintless Dent Removal
Foreign and Domestic Vehicles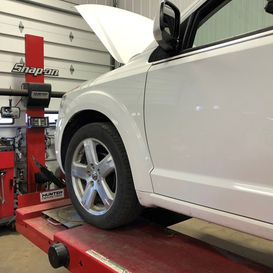 ENVIROBASE WATERBORNE PAINT
Since 2009, we have been using waterborne paint on every repair. Not only does Envirobase brand offer a high-performance and high-quality product, it also gives off fewer odors in the work environment and an overall improved air quality.
CUSTOM COLOR MATCHING
The Envirobase HP system helps to provide the true and accurate color representation for each and every unique vehicle's color. The system, combined with PPG paint products, provides a range of color-matching tools to guarantee the right color match the first time. Envirobase even offers a "Lifetime Limited Paint Performance Guarantee."
STATE-OF-THE-ART PAINT BOOTHS
Along with the waterborne paint, our Accudraft brand downdraft paint booths help to minimize dust and contaminants in and around the vehicle and the technicians painting. The air is drawn down underneath the vehicle and away from the painter which keeps a cleaner environment. We have two paint booths which help in speeding up the turnover time of completed vehicles.
Whole Body Painting
Spot Painting
Detailing
Finishing
Clear Coating
Corrosion Protection
CALL US TO 
SCHEDULE YOUR NEXT

 SERVICE